From the creator of The Radio Adventures of Dr. Floyd! Return with us now to the thrilling days of not too long ago when the west was wild and the rivers in the west were even wilder! Luckily there was one fish to maintain law and order, one fish to reel in those who dared disturb the peace and tranquility of Driftwood Gulch, one fish to stand for truth, justice and honor in the untamed rivers of the wild west...Deputy Guppy!
SUBSCRIBE: Apple Podcasts | Spotify | Google Play | Stitcher | RSS
Podcast: Play in new window | Download (Duration: 10:16 — 8.6MB) | Embed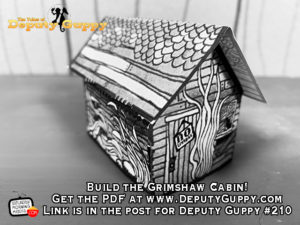 Starring Gentleman Jervis! Deputy Guppy, Ringo and Mr. Hammerjaw walk right into an Ambush planned by Ma Grimshaw! Tune in to find out what happens!
DOWNLOAD YOUR DRIFTWOOD GULCH ACTION PLAYSET BUILDING HERE

Starring:
Gentleman Jervis as Mr. Hammerjaw
Leslee Harman as Ma Grimshaw
Russ Walko as Dew Grimshaw
Nate Begle as Peter Grimshaw
Chris Sheets as Ringo
Grant Baciocco as Deputy Guppy
Kevin Berntson as The Narrator
Music By Dan Ring

Sound Design by Christopher Green of GreenStreams Studio
©2018 Saturday Morning Media – http://www.SaturdayMorningMedia.com