Podcast: Play in new window | Download (Duration: 21:52 — 20.1MB) | Embed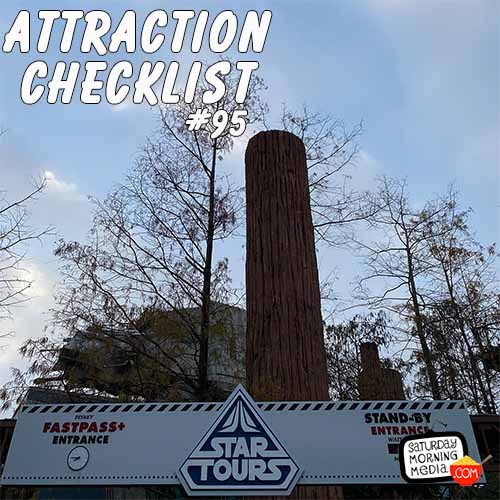 http://www.attractionchecklist.com – Join Grant, John and Tim as they ride Star Tours – The Adventures Continue at Disney's Hollywood Studios! How will they like this new update to a classic attraction? Tune in and see! Recorded on January 14, 2020.
TRANSCRIPT:
Welcome to Attraction Checklist.
This episode we venture back to Disney's Hollywood Studios for more Star Wars fun on Star Tours – The Adventures Continue. The guide map describes this attraction by saying: Feel the power of the Force during a 3-D, motion simulated space flight. Guests must be 40" or taller to ride this attraction and Fast Pass+ is available. The thrill level describes this attraction as having small drops.
Before we blast off an a Star Wars adventure, here are five fast facts about Star Tours – The Adventures Continue.
1. Star Tours – The Adventures Continue opened at Disney's Hollywood Studios on May 20, 2011. It was a complete refresh of the previous attraction, the original Star Tours. Some of the updates this attraction received included high definition video, Dolby 3D and an improved motion simulator.
2. While the original ride took place during the original Star Wars trilogy, Star Tours – The Adventures Continue takes place over the entire Star Wars saga. It now encompasses all the films and the ride is regularly updated to showcase locations from the movies. In 2015, scenes form The Force Awakens were added. In 2017, scenes from The Last Jedi and Star Wars Galaxy's Edge were added. And, most recently at the time of this recording, in 2019, scenes from The Rise of Skywalker was added.
3. All the computer generated effects for the attraction were produced by Industrial Light & Magic, the same company responsible for the the effects in the Star Wars films.
4. The attraction uses music by Star Wars composer John Williams. Some of the music is from the films, other cues are unused pieces that were left our of the films. The iconic Star Tours logo Chimes heard in the attraction were written by Richard Ellis and were kept from the original Star Tours ride.
5. Star Tours has eighteen different possible ride segments and when combined they allow for 384 completely different ride experiences.
Now let's catch out flight on Star Tours – The Adventures Continue. With me this time is John B. deHaas and Tim Hinton and after we ride we'll give you our thoughts on this attraction. This is a binaural recording so if you have headphones put them on now as we head to Star Tours – The Adventures Continue at Disney's Hollywood Studios!
The attraction audio recorded for this episode is available exclusively to the Saturday Morning Media Patron Patron. Support the show and get fun Bonus content over at http://www.patreon.com/saturdaymorningmedia
Episode edited by Stephen Staver
FOLLOW US
http://www.facebook.com/attractionchecklist
http://www.facebook.com/saturdaymorningmedia
http://www.twitter.com/SaturdayMMedia
https://plus.google.com/+Saturdaymorningmedia
https://www.linkedin.com/company/saturday-morning-media
http://www.youtube.com/user/SaturdayMorningMedia?sub_confirmation=1
FOLLOW GRANT
http://www.MrGrant.com
http://www.twitter.com/toasterboy
https://instagram.com/throwingtoasters/
SOURCES:
https://disneyworld.disney.go.com/attractions/hollywood-studios/star-tours/
https://en.wikipedia.org/wiki/Star_Tours_–_The_Adventures_Continue
Show ©2020 Saturday Morning Media/Grant Baciocco
Sorry, we couldn't find any posts. Please try a different search.